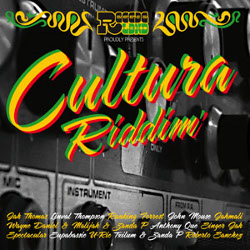 The latest release from Catalan label Reggaeland is the Cultura riddim, a riddim with a structure and beat reminiscent of the late 70's to early 80's rub a dub scene. The release is a tribute to those who set the musical trend around this time, and includes cuts from legendary mic men Jah Thomas and Linval Thompson.
The 18 tracks also feature versions from Jahmali, Spectacular, Anthony Que and the under recorded U.S. deejay Ranking Forrest. Also included are four remixes as well as two dub versions from Spanish producer Roberto Sanchez, who handled the mixing of all cuts.
Cultura riddim is available on digital platforms worldwide.