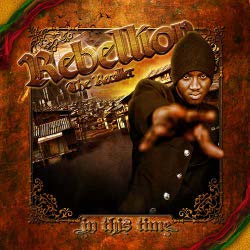 Gambian – nowadays residing in Germany – reggae and dancehall singjay Rebellion the Recaller is set to launch his sophomore album 'In This Time', the follow-up to the 2008 released Bobby Digital produced 'Moving On', an effort that included the wicked Ken Boothe combination 'Pure and Strong'.
Rebellion the Recaller started his career in the late 90's scored his first hit song with One for One, which entered the charts in his home country.
Since his debut album he has toured several countries and also voiced a combination with German reggae superstar Gentleman, a tune included on his latest album 'Diversity'.
'In This Time' collects 16 tracks and hits the streets on March 12th.