Nazarenes – made up of Ethiopian brothers Noah and Medhane Tewolde – is set to drop their fourth full-length album 'Meditation' on April 10 on Virgin Islands based label I Grade, the label's first project with an African group.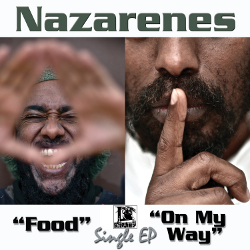 But the double single 'Food/On My Way' – complete with exclusive dub versions – is already available on digital platforms. And it is said to "reflect the Tewolde brothers' multi-cultural experience, incorporating elements of pop, dub, reggae and rock."
Food, with lead singing by Noah Tewolde, is produced by the Zion I Kings and mixed in Jamaica, while Medhane Tewolde handles lead vocals on On My Way, with production work by Tippy I, who is also responsible for dub mixing.
Noah and Medhane Tewolde were born and raised in Addis Ababa, Ethiopia, to parents of Eritrean descent who later settled in Europe. The Tewolde brothers originally followed separate musical paths. Noah signed with Virgin Records in the 1990's, while Medhane toured Europe with Culture Knox and other reggae acts, and in 1996 they formed the Nazarenes.