In late 2010 U.S. label Subatomic Sound System dropped the 'NYC-2-Africa' EP. The tough riddim included African drumming, dancehall energy and skanking horns laid over a hip-hop influenced beat with dubwise effects and a heavy bass line.
The EP – produced by Emch from Subatomic Sound System and Benny Beats of Nomadic Wax – featured vocal cuts from Jahdan Blakkamoore, Bajah and Anthony B, and was recorded in Jamaica, Senegal and the U.S.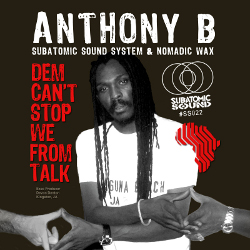 Anthony B's cut – Dem Can't Stop We From Talk – was obviously popular, since it now has been remixed no less than twelve times.
According to the press release it seems that Anthony B was on fire when it was recorded, and his delivery and lyrics are jam-packed with energy and anti-corruption statements.
"When Anthony first heard the African drums, his eyes lit up and he and his crew began a classic African call and response chant to the beat. After listening to the riddim over and over on repeat, he demanded to go straight into the studio and, without a word written, delivered a blistering performance, waiving his lighter and literally jumping off the walls of the vocal booth while singing like a man possessed by inspiration," states the press release.
The reason behind his excitement might be the context it was recorded in. At the time, Kingston was a charged environment, with Tivoli Garden's catching fire in a military raid sparked by the Prime Minister's order to extradite a Don known as Christopher "Dudus" Coke.
While the original tune spanned three countries in its creation, the remixes are taking things even further coming from North, South, and Central America, the Middle East and Europe, including veteran and upcoming producers from the fields of cumbia, dubstep and tropical bass as well as roots, hip-hop and dancehall.
This 15 track album hit digital platforms on March 6th.