In late January United Reggae revealed a new album project from UK label Necessary Mayhem titled 'Trilogy' series.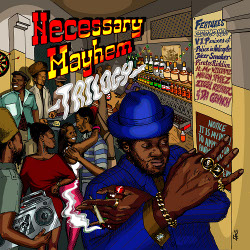 Now the first release in the series has been announced. It contains cuts from three familiar riddims relicked by producer Curtis Lynch – Police in Helicopter, Joker Smoker and Pirates.
The only tune not previously released is a new dub from Da Grynch called Police in Dub. There is however also new mixes of Million Stylez' Police in Helicopter, Da Grynch's Joker Dub and the monster combination Champion Sound.
The artwork is a special one and aims to make the series a collector's item. When the full series are put side by side on the shelf, the spines will form a picture.
Necessary Mayhem Trilogy series drops on March 13th on vinyl and digital download with slightly different track lists.