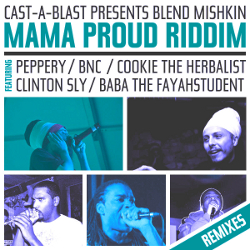 In late January Athens' based producer Blend Mishkin dropped the Mama Proud riddim on his label Cast-a-Blast. It's a fine slice of intense contemporary dancehall with an underlying dubstep production.
Now Cast-a-Blast unleashes a remix version of the riddim album with workouts from ten European producers and remixers.
The Dirty Dubsters, Palov, JStar, Grant Phabao, Jazz K Lipa, Motagen, Turntable Dubbers, Balkan's Hi Fi, Cut La Vis and Max Rubadub show their talents on this release covering dubstep, dancehall, futuristic dub, skankin roots and drum and bass.
The ten tracks are now available for free download here.