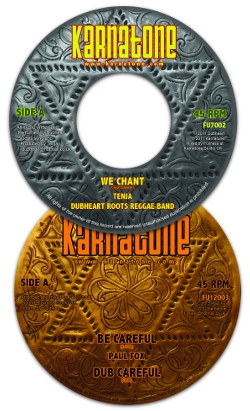 KarnaTone records have two great new releases to shout about. The first, released last month, is a 7" vinyl single from Dubheart Roots Reggae Band We Chant featuring the vocal talents of French born MC Tenja.
Originally from south Paris Tenja now resides in one of the UK's hotbeds of reggae Bristol where he has become something of a main stay as one of the regular vocalists with Dubheart. Whilst here he has also worked on solo projects and with other artists in Bristol and across the UK.
The cut continues KarnaTone's tradition for classic heavyweight roots and dub reggae and features Ianis on backing vocals with Mark 'Red Eye Lion' Shepherd on bass, the keys of Dave 'Daddy U' Mountjoy, Richy 'Bad Bwoy' Ramsey guitars, Stevie 'Countryman' Parsons on bongos and KarnaTone founder Gavin 'Fullness' Sant on Drums.
The second release is to be a 12" EP due out on Monday 2nd of April from Paul Fox titled Be Careful with Walk With Jah on the flip. Both of these cuts appear to be something of a family affair as they feature Helen, Eleanor and Joel Fox on backing vocals along with Fullness Horns, the flute of Charlie Clark plus Annikabyheart on harp and Bongos by Kehru Jahman Dan. Completing the EP are a dub versions of each cut.
As already stated We Chant is available now in many stores worldwide and is distributed by Dubwise in the UK, Ernie B in the US and Dubstore in Japan with Be Careful / Walk With Jah soon to follow.