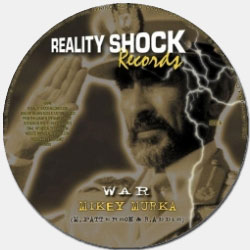 After releasing in late July Mikey Murka's In the Name of Love album, the UK label Reality Shock presents War, a peace anthem voiced by Mikey Murka, on a powerful riddim produced by Reuben Addis from Unitone Soundimentional.
This new version inspired by Bob Marley's famous War features excerpts of Haile Selassie 1963 speech for peace in Amharic language. Soon available as 10', it features one extended vocal version and two heavy dub mixes. Not to miss!
"Until the philosophy which holds one race superior and another inferior is finally and permanently discredited and abandoned: That until there are no longer first-class and second class citizens of any nation; That until the color of a man's skin is of no more significance than the color of his eyes; That until the basic human rights are equally guaranteed to all without regard to race; That until that day, the dream of lasting peace and world citizenship and the rule of international morality will remain but a fleeting illusion,to be pursued but never attained..." (Excerpt of Emperor Haile Selassie historic speech to the Organisation of African Unity on October 4th, 1963).