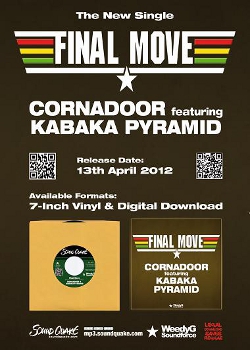 German singer Cornadoor and Jamaican hip-hop/roots reggae singjay Kabaka Pyramid have a new single together.
They hooked up on Facebook after hearing songs from their respective album 'Without Restrictions' and 'Rebel Music EP'. Both liked what they heard and decided to do music together.
The single Final Move is the result working over the Internet, and the tune was sent back and forth by e-mail after each artist had changed bits and pieces.
Final Move is by produced by Swiss Weedy G Soundforce and drops on April 13th on vinyl and digital download.