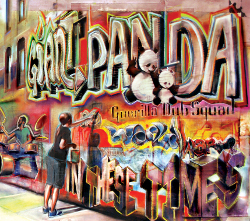 Following the 2006 release of their debut album, 'Slow Down', Giant Panda Guerilla Dub Squad have toured relentlessly, and on April 10th they will put out their first electric studio album in six years – 'In These Times'.
This is the quintet's second release in 2012 following the roots americana album Country, an album based on acoustic instrumentation including slide guitar, banjo, harmonica, upright piano, percussion and bass.
'In These Times' holds twelve tracks and is mixed by Atlanta-based producer Billy Hume, who has previously worked with Nas and Ludacris. Guests include Hawaii's The Green, contributing backup vocals on one track, and John Brown's Body's horn section on another two.
The new album is said to showcase Giant Panda's psychedelic reggae sound and explores a variety of emotions and themes, from feel good and sing along vibes to political anthems.
"I think it would be fair to say that this is the album that long-time Panda fans have been waiting for," says drummer Chris O'Brian.