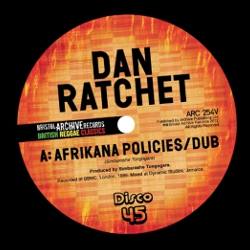 Reggae singer Dan Ratchet spent several months in Kingston and London studios in 1986 working on recordings intended to be his first album. But the only songs to see a release were Sweet Rosie, a limited pressing on the Jamaican Star Time label, and The Time Has Come, which was released in Zimbabwe as a double A Side. The rest of the tracks remained in a safe until Bristol Archive Records licensed them for the forthcoming album release 'Jah Poor People'.
As a taster for the album, the label will release a double A sided four track 12" single and digital download of the tracks Afrikana Policies/Ekomé Is Unity, both sides featuring the vocal version followed by dub versions in tasty reggae discomix style.
The songs are taken from the session tapes and the mixes on the dub versions are exclusive to the 12" vinyl and digital download.
Afrikana Policies/Ekomé Is Unity will be available from June 11th.