The current line-up of the Skatalites Band are back on the road to help celebrate this years 50th anniversary of Jamaican independence, their own 48th birthday plus the anniversary of the creation of Ska music with a tour that will take them all over the world and feature a collection of new and original tunes combined with all the classics.
The first leg of this tour, called The Echoes of Kingston tour, started on Friday March 30th in Houton, Texas before heading north to New Mexico and Colorado, then west to Arizona, Mexico, California, Seattle, Washington into Canada and back again to finish at the Viva Ska Vegas event in Las Vegas. As they visit each of these cities they will be aided by a collection of modern bands playing their own distinctive brand of Ska, which the Skatalites were of course a big influence on. Bands such as Keysor Soze, Los Skarnales, The Sentiments, The Georgetown Orbits will be joining them while on the AZ-CA portion they will be accompanied by Los Angeles' leading proponents of ska & reggae, The Delirians who have been forging a sound that is firmly rooted in the past, yet is still distinctly their own. They have also backed and performed with legends such as Derrick Morgan, The Melodians, Derrick Harriot, Stranger Cole and more.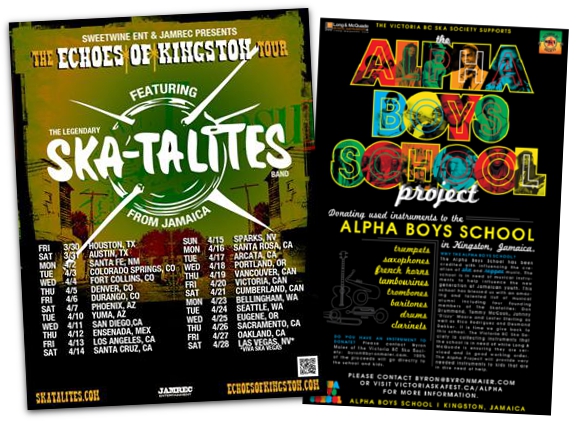 The tour will also be used to help promote The Alpha Boys School Project by collecting donations of unused musical instruments to ship back to Jamaica to help those at the school who do not have one themselves! There are also plans to bring musicians to the school as guest teachers including King Django of Stubborn Records/ Version City fame who plans to teach Trombone.
Anyone attending a show on the tour can bring in any instrument on our list (and some not on the list) in exchange for a CD.
Instruments Being Requested:
2 French Horns
2 Baritone
1 Upright base
1 Xylophone
1 Vibraphone
Flutes
Saxaphones
Clarinets
Also any other brass or woodwind instruments are gratefully accepted. If you don't have an instrument to donate but would like to contribute in some way they are also taking money and other useful items as well.
For more information about donating you can contact Jason Lawless at skatalites@echoesofkingston.com to arrange drop-off at the stop in your city.
While for more information for on the project itself you can visit www.echoesofkingston.com/eok/blog/alpha-boys-school-project/
The full American tour dates are:
Fri 3/30 - Houston, TX Mango's Cafe Montrose
Sat 3/31 - Austin, TX Flamingo Theater
Mon 4/2 - Santa Fe, NM Sol at Santa Fe Brewery
Tue 4/3 - Colorado Springs, CO Black Sheep
Wed 4/4 - Fort Collins, CO Aggie Theater
Thu 4/5 - Denver, CO Cervantes
Fri 4/6 - Durango, CO Abbey Theater
Sat 4/7 - Phoenix, AZ Compound Grill
Tue 4/10 - Yuma, AZ Strummer's Village Tavern
Wed 4/11 - Ensenada, Mexico
Thu 4/12 - San Diego, CA World Beat Cultural Center
Fri 4/13 - Los Angeles, CA Los Globos
Sat 4/14 - Santa Cruz, CA Moe's Alley
Sun 4/15 - Sparks, NV The Alley
Mon 4/16 - Santa Rosa Last Day Saloon
Tue 4/17 - Arcata, CA Humbrews
Wed 4/18 - Portland, OR Goodfoot Lounge
Thu 4/19 - Vancouver, BC CANADA The Venue
Fri 4/20 - Victoria, BC CANADA Club 9ONE9
Sat 4/21 - Cumberland, BC CANADA Waverly Pub
Mon 4/23 - Bellingham, WA Wild Buffalo
Tue 4/24 - Seattle, WA Nectar Lounge
Wed 4/25 - Eugene, OR WOW Hall
Thu 4/26 - Sacramento, CA Harlow's
Fri 4/27 - Oakland, CA The Uptown
Sat 4/28 - Las Vegas, NV Viva Ska Festival