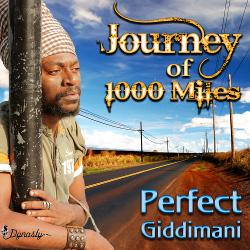 Globetrotting singer-deejay Perfect Giddimani certainly likes to travel. So it makes sense that his forthcoming sixth album be titled 'Journey of 1000 Miles'.

It continues his recent trend for working with producers in the USA. Where previous set 'Back For the First Time' was voiced with Californian collective Lustre Kings, here production is helmed by MG and Dan of Seattle's Dynasty Records.

Recorded in Jamaica and Seattle, its press material promises a record of great variety, claiming "such a diverse collection of his talent and versatility had never been featured on one work until the release of Journey of 1000 Miles".

The nattily attired, critically-acclaimed St Ann's raised vocalist is known for his embracing of international reggae and for his uncompromising roots messages.

'Journey of 1000 Miles' is scheduled for release in May 2012.