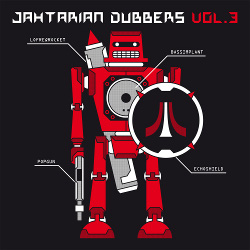 German label Jahtari –with producers Rootah and Disrupt – have fine tuned the echo machines, rewired the reverbs and set the bass implant beyond max on the third episode of their ongoing various artists' compilation series 'Jahtarian Dubbers'.
Mikey Murka, John Frum, Soom T and El Fata appear once again. Denmark's Maffi teams up with Ranking Levy from MyLord Sound and the newest addition is Monkey Marc – who supplied a rough instrumental for the last Roots Manuva album.
Lee Perry also shows up on a special Rootah version of the Dub Syndicate/Adrian Sherwood tune Secret Laboratory.
'Jahtarian Dubbers volume 3' hit the streets as LP and CD on April 5.