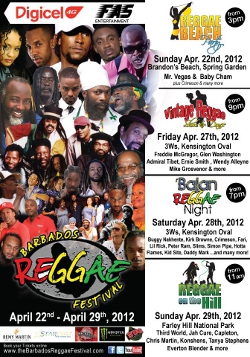 Taking place between the 22nd and 29th April is the Barbados Reggae Festival with events taking place across three venues on the island.
Brandon's Beach gets things under way with a warm up party from 3pm on Sunday the 22nd with headline performances from Popcaan, Mr Vegas and Baby Cham. There is then a lull in proceedings until Friday 27th when the 3Ws Theatre Kensington Oval will be hosting "Vintage Reggae" with Freddie McGregor, Glen Washington, Admiral Tibet, Ernie Smith, Wendy Allene, Mike Grosvenor, Super Ruben and more.
It's back to the 3Ws on Saturday for what is billed as "Bajan Reggae Night" with whole array of various performers including Ras Michael, High Grade, Albert Olton, Lady Essence, Biggie Irie and far too many more to mention!
Sunday 29th brings things to a close with "Reggae On The Hill" at Farley Hill National Park. Headliners at this spectacular venue with great views of the eastern coast of the island will be Jah Cure, Third World, Capleton, Chris Martin, Konshens, Tanya Stephens and Everton Blender.