Last year Bristol Archive Records teamed up with Nubian Records to release the critically acclaimed 'Black Roots - The Reggae Singles Anthology', and now the labels have collaborated again.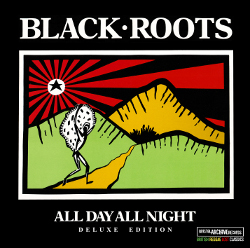 This time they bring out a 25th anniversary deluxe CD edition of 'All Day All Night', the album that saw Black Roots working together with Mad Professor and moving away from their original roots sound for a more polished version.
Included are the original dozen vocal tracks, but also six bonus cuts, featuring several dub versions and the extended 12" mix of Pin in the Ocean as well as a booklet with many previously unpublished photos of the band.
Black Roots is also back together after many years, and are working on a new album to be released in late 2012 as well as performing around the UK.
'All Day All Night (Deluxe edition)' is released on April 23rd on CD.