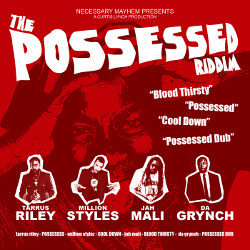 UK producer Curtis Lynch's label Necessary Mayhem has just dropped their latest riddim. It's titled Possessed and includes a haunting sample of Ken Boothe's 70's tune Black Gold & Green. The vocal duties are handled by Tarrus Riley, Jah Mali and Million Stylez. The dub version is mixed by Curtis Lynch's alter ego Da Grynch.
The riddim was laid in Jamaica and Tarrus Riley was voiced under the supervision of veteran producer and saxophonist Dean Fraser at Augustus "Gussie" Clarke's Anchor Studios.
Blood Thirsty, the single by Jah Mali taken from the 'Future Cuts' album, is described by David Rodigan with the words "Jah Mali is an under-recorded artist but when he does record, you listen."
Million Stylez & Curtis Lynch have a long recording history, which is now continued with his cut Cool Down.
The Possessed riddim is already available on two 7", but the digital download doesn't drop until April 22nd.