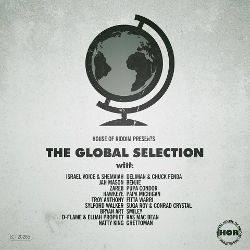 Boom Austrian label, House of Riddim, is back in a fine form for 2012 with the releasing of their latest sterling creation, the Global Riddim. Known for delivering some of the best modern Roots Reggae compositions to be found anywhere on the planet, House of Riddim's Global follows the likes of the Camel Riddim, the Street Riddim, 2011's big Sensimillionaire and others and it more lives up to what are lofty expectations.
The Global Selection features the likes of Jah Mason, Chuck Fenda, Bryan Art, Natty King, Zareb, Ras Mac Bean, Smiley, Fitta Warri and a whole heap of others who give vocals to a big track which features the legendary Dean Fraser on the saxophone also.
One of the biggest riddims of the early part of 2012, The Global Selection from House of Riddim, can be found in stores now. Right now. Stop reading this and go buy it. Like right now!