This year on the 6th August it will be fifty years since Jamaica gained independence from Great Britain and to help celebrate this fact Trojan Records will mark the anniversary with a series of rare and classic releases, themed on a different reggae artist or label each month.
Lee "Scratch" Perry actually kicked things off back in March with three releases including a lost album from Candie McKenzie, George Faith's 'Super Eight (aka To Be A Lover)' and The Full Experience 'Young, Gifted and Broke'.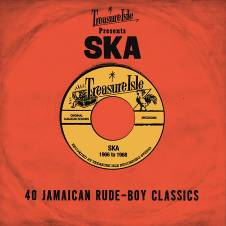 This month (April) will see four releases from the famous Treasure Isle label: 'Treasure Isle Presents Ska', 40 massive Ska hits from the early to mid-sixties. 'Treasure Isle Presents Rock Steady', highlighting what many to believe to be some of the finest Rock Steady recordings ever, from a label that was at the cutting edge of this musical revolution with an array of talented vocal acts, backed by the legendary Tommy McCook & the Supersonics band. Then there's 'Treasure Isle Presents Original Reggae' a collection of the label's output from 1968 to 1973 and finally a limited 7" single featuring two previously unissued Ska sides, Easter Bonnet by Roland Alphonso and Duke Reid's Band flipped with Feeling of Love by Stranger Cole and Ken Boothe.
May will see six titles themed under 'Classic Island Records Artists' including Toots and the Maytals 'Pressure Drop', Black Uhuru 'Guess Who's Coming / Best Of' and Steel Pulse 'Prodigal Sons', as well as 'Best Of' collections from Sly & Robbie, Burning Spear and Aswad.
Johnny Hudson, Head of Marketing at Trojan Records stated: "The themed monthly releases are just one of a number of exciting initiatives we are rolling out to mark the 50th anniversary of Jamaican Independence this year. Trojan Records and its artists have played a significant part in the history and cultural influence of Jamaican music, and so we're incredibly excited to be associated with this landmark event. We're also looking forward to announcing several other exciting partnerships for this year soon too."
For more information and to purchase any of these titles visit the Trojan Records website www.trojanrecords.com