Jamaican songstress Brina dropped her debut double A-side single Listen/Real Reggae Music in mid 2011. Now her debut album 'Under One Sun' has hit the shelves adding another ten tracks.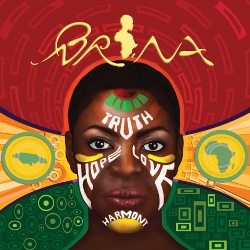 The seeds for 'Under One Sun' were planted in 2007 when Brina met Kieran C Murray, a Scottish musician living in Jamaica. In 2009 they started recording the album and now three years later it's finished.
'Under One Sun' features Jamaican legend Toots Hibbert on guest vocals and Sly Dunbar on Drums.
But there are several other prominent musicians involved, such as Jubba White, Jallanzo and Luke Dixon of Dubtonic Kru on drums, guitar and keyboards respectively. Michael 'Ibo' Cooper of Third World, Demar Gayle of Raging Fyah, Sheldon Bernard, Stephen Maxwell and Jerome Tulloch on piano and keyboards as well as Dean Fraser, Nambo Robinson and Dwight Richards on horns.
People behind Santana, War and Maroon 5 have also been engaged in the production.
According to the press release 'Under One Sun' is roots reggae rocked up with sounds of nyabinghi, gospel, funky pop rock and dub as well as African, Latin and Brazilian grooves.