Gramps Morgan – a regal member of the internationally renowned reggae band Morgan Heritage – is back with a new solo album. 'Reggae Music Lives' follows-up on his debut studio set '2 Sides of My Heart' released in 2009, and hit the streets on April 24.
The release his debut album led to performances on a string of high profile tours with soul singers John Legend and India Arie as well as the imprisoned Jamaican deejay Buju Banton.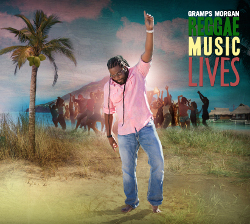 "I've grown so much as a producer, song writer and vocalist. Overall, my experience from touring and working with India Arie, watching John Legend perform every night, touring with different artists, working with the different producers on this album and getting a chance to work with my brother Peetah one-on-one writing songs, has brought me to a whole other level," says Gramps Morgan in a press release.
The majority of the tunes on 'Reggae Music Lives' are produced by Gramps Morgan himself, but producers such as Clive Hunt and Kemar "Flava" McGregor have also been involved.
"My experience really came into play in making this. I think this album is really the best of the brand called Gramps Morgan, as a product, you finally get the sound of Gramps Morgan. The first album was just discovering, getting it and learning myself. Gramps Morgan has been born on this album," explains Gramps Morgan.
The album's first single The Almighty topped the charts in South Florida and New York while Life Too Short, released on March 28th, advanced in the fight for justice in the case of the fatal shooting of the unarmed 17-year old Trayvon Martin in Florida earlier this year.