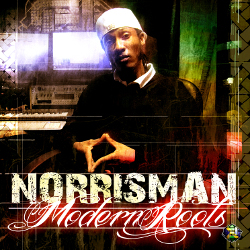 Internationally known singer Norrisman spent some time in Sweden between 2011 and 2012. There he met up his friend Advance, a Jamaican singer living in Stockholm. He was finishing his debut album 'Game Over' with Swedish-based label and production crew Nordic Steel, and brought Norrisman to the studio to record a tune.
Norrisman however kept visiting the studio and started to record on several of the riddims produced by Nordic Steel. These recordings have now formed Norrisman's new album 'Modern Roots', a set that contains different musical styles, including roots, dancehall and hip-hop.
'Modern Roots' is currently available as digital download on platforms worldwide.