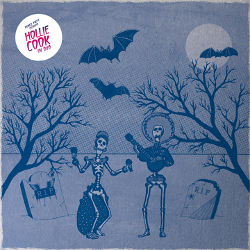 British acclaimed singer Hollie Cook's self-titled debut album has got a dub treatment from its producer Prince Fatty. Extra bass, delays and reverbs are added to Hollie Cook's vocals.
It features tracks such as For Me You Are Dub, a ska version of an old Andrews Sisters' tune, And The Beat Goes On Dub, a brand new dub cover of the The Whispers' disco classic, and Walking in the Sand, a delicious adaptation of the Shangri La's legendary record.
"The dub versions showcase real tape echoes, heavy spring reverbs and alternate instrumental elements such as melodica, percussion or horns that were hidden in the vocal versions. All the dubs are mixed live in my studio in the same rub a dub style as was made famous in 70's Jamaica by King Tubby and others, i.e not with the use of computers for automation and endless digital nonsense but with fingers, late night vibes and re-arranged with a razor blade," states Prince Fatty on the label's website.
'Hollie Cook in Dub' is now available on CD, LP and digital download.