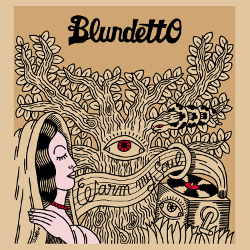 Blundetto is French radio DJ Max Guiget's musical alias. He has worked at Radio Nova in Paris since 1998 and has now put out his second album titled 'Warm My Soul', a set where he has invited several guest artists, among them reggae singers Courtney John and Jahdan Blakkamoore.
"I only invite people I admire, and so my policy is a bit wait-and-see with some people to see where they go with my track, like the rasta man Courtney John, for example. We met out in Jamaica and later I sent him some demos without giving him any particular instructions. He didn't let me down," explains Blundetto in a press release.
'Warm My Soul' was recorded together with several experienced musicians and is a melting pot of latin-soul, reggae-dancehall and jazz-funk with an additional, cinematic feel to it. And everything was recorded in Blundetto's home studio, something that has affected his sound.
"I always listen to and record music at a sensible volume, and I like sounds that caress the front of the brain bulb gently. I try to produce an emotional response because that's what I appreciate in other people's music. I prefer my instrumentals to conjure up passion, melancholia or love rather than get everyone on the dance floor," he says.
'Warm My Soul' collects eleven jazzy tunes and is available now as digital download.