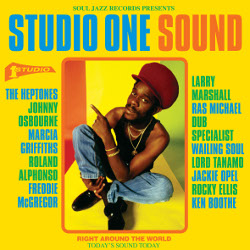 Soul Jazz Records has yet again dug deep in the mighty vaults of Studio One. Their latest addition to their Studio One catalogue is 'Studio One Sound', a set collecting 18 tunes ranging from classic ska and rocksteady to deep roots, heavy dub and dancehall-influenced roots.
Among the featured singers and groups are The Heptones, Ken Boothe, The Skatalites and Johnny Osbourne, all of whom launched their careers under the tutelage of Clement "Coxsone" Dodd, owner and founder of Studio One.
'Studio One Sound' includes some in-demand and collectable tracks. The sleevenotes are handled by Rob Chapman, author of last year's book about Studio One as well as 'Never Grow Old' and 'Downbeat the Ruler'.
The album hits the streets on May 28th as CD with slipcase, double-album thick card sleeve and heavyweight vinyl.