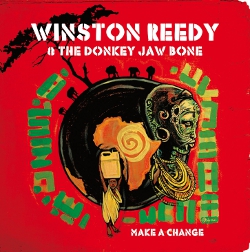 Following last year's album 'Paris Is Burning' with Derajah, the Parisian roots organic group the Donkey Jaw Bone have just released another collaboration longplayer.
This time the band have linked with sweet voiced former Cimarons singer Winston Reedy, who they met during a trip in London in winter 2009 through saxophonist and flutist Eric "Rico" Gaultier from Faya Dub.
Focusing on Rasta messages across its 15 tracks, 'Make A Change' was produced and played by the Bone at their analogue suburban Paris studio.
The album is out now via the deceased French label Makasound's offspring Chapter Two.