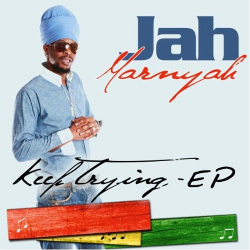 Montseratt-born singjay Jah Marnyah got his breakthrough in 2004 with the Vibronics-produced scorcher Anointed One, and has since then released several well-received singles, among them the mighty Stormy Weathers for Nick Manasseh.
In 2010 he launched his own label Faya Works with the single Sweat of Your Brow. Another single is now set to be put out.
Keep Trying is produced by Sound Guyz, and comes in another four versions. Two dub versions credited to Vibronics and one acoustic version and one hip-hop mix by Scribe.
Keep Trying is available as digital download from May 18th and is taken from Jah Marnyah's debut album coming in June.