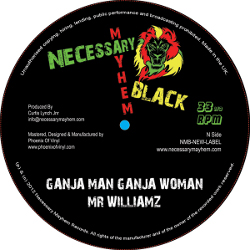 In December UK producer Curtis Lynch – of Necessary Mayhem fame – launched a drum and bass subsidiary named Necessary Bass. Now it's time for another subsidiary.
NM Black is Necessary Mayhem's alternative lab-scientist cousin set to release future dub. The tracks released on this label is said to be more electronic than the output on Necessary Mayhem, with more samples and bass.
The first release is a 12" with two tunes. The A side features Ganja Man, Ganja Woman with vocals from international reggae star Mr. Williamz, while the B side hosts a dub version from Killa Mosquito titled Ganja Dub.
Now available on vinyl and digital download.