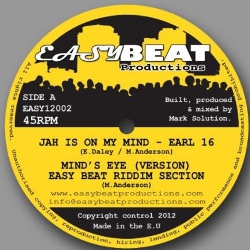 London based Solution Sound System are known for their rootical selections and for their work with Austin Spiderman Palmer of the legendary valve sound Jah Observer. They played with Austin at his final send off dance before he left England for Jamaica and are now going to take over his sanctified spot at Notting Hill Carnival 2012.
However, Mark Anderson of Solution also runs Easy Beat Productions whose latest release is a trio of relaxed meditative dubby roots offerings on the same rhythm available on 12" and digital download.
Prolific veteran singer Earl 16 Daley takes the vocal Jah Is On My Mind; Anderson then works up a straight mix of the rhythm Mind's Eye; while Solution live collaborators Ital Horns gently parp their way through an extended instrumental cut Blow Your Mind (which segues in to the dub, Mind Over Matter on the 12.)
The 12 has been out since April and the digital release descended on May 14th.