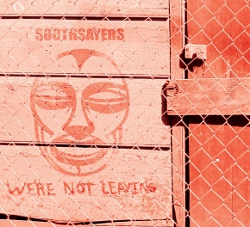 There's no firm release date for the eagerly anticipated followup to Soothsayer's last vocal album, 2009's 'One More Reason'. But in the meantime, they've released a new 12" EP reworking one of their biggest 7" tracks from 2011 - We're Not Leaving - and containing further hints as to how the next record will sound.
We're Not Leaving is as close as the collective have come to a pop song. So there's a radio edit of the original Manasseh mix (essentially cutting out a lot of the hornplay from Idris Rahman and Robin Hopcraft) and an aquatic sounding dub by Pama International spar DJ Wrongtom.
The Brixton Pound, featured on their previous longplayer, 'Red Earth Dub' (2010), is refashioned as a deejay cut from drummer and Hollie Cook compadre Horseman, entitled Red Earth Roots. Then there are previously unreleased versions to new album songs: One Day featuring Julia Biel and a vocal and instrumental of a track called Human Nature - all three mixed by Mark Rae and Rhys Adams AKA YesKing.
Recorded at Prince Fatty's Brighton Ironworks studio and Soothsayer's own London lair, these quality sides are out now on Red Earth Records as a 12" and for digital download...