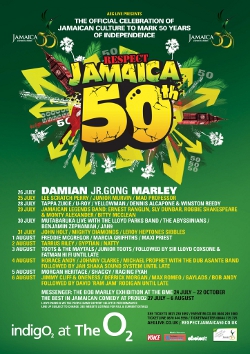 The IndigO2 Arena, on the Greenwich peninsular in London, is to host a spectacular twelve-day event to help celebrate the 50th anniversary of Jamaica's independence.
Appearing on stage will be some of the most iconic reggae, ska and dub artists from the Island that despite its size has left an indelible mark on the music business as a whole.
It starts on the 26th July with Damian Jr. Gong Marley and runs through to August 6th where Jimmy Cliff and Oneness, Derrick Morgan, Max Romeo, the Gaylads and Bob Andy will bring things to a close with the help of David 'Ram Jam' Rodigan keeping the party going until late.
In-between will be appearances by such artists as Lee 'Scratch' Perry, Yellowman, The Abyssinians, Tarrus Riley, Horace Andy and Raging Fyah amongst others.
Also running in parallel with this at the same venue is The Best in Jamaican Comedy at Proud2. This event will feature 'The Jamaican Magnificent 7', a stand up comedy show highlighting the variety of Jamaican heritage comedians in UK today. 'Laugh Jamaica 50' featuring Ity and Fancy Cat, who'll deliver some classic musical comedy with special guest comedians direct from Jamaica. The cult underground hit play 'My Big Fat Jamaican Funeral', that illustrates how funny, exciting and dramatic a Jamaican funeral can really be. Satire with 'Me My Wife and Her Next Door', an amusing and funny story of the nosey neighbour meddling in a Jamaican couples happy life with some dire consequences and 'Jamaican Dons of Comedy' a best of the best of Jamaican heritage comedians with tales of what it means to originate from the famous island in the sun.
Finally just before all this begins on 24th July and going all the way to 22nd October is Messenger: the Bob Marley Exhibition at the British Music Experience (BME) which they say is an "exhibit to explore Marley's role as the catalyst to the reggae revolution, as well as his influence on music and culture over the past three decades."