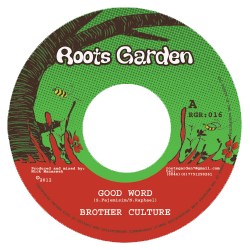 Available now on limited edition 7" vinyl and digital download from Roots Garden Records is Brother Culture Good Word produced and mixed by Nick Manasseh.
The single follows on from his previous Roots Garden release in 2006 Darker Side Of Town and is a remixed and transformed version of Red Eye which originally featured on his acclaimed 2008 LP 'Isis'.
Brother Culture's fast chat style and militant lyrics come spiritually equipped as he chants against the dogma and wickedness that divide so many, on top of a sinister digi dancehall/roots backdrop.
On the flip is Manasseh's Dub The Word an atmospheric and heavyweight dubwise outing with retro 80's drum sound and deep keyboard bass line contrasted by futuristic synth lines, choral backing vocals and cinematic layers sure to keep dubheads nodding and roots dances rocking.