This 10 Track vocal album put together by Springline's Gibsy and Black Harmony Sound System DJ Uncle Fee showcases the two stables Jamaican archives.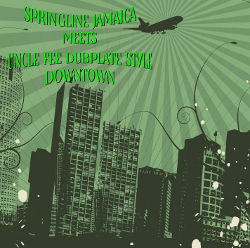 Back in around 2007 Soundman Fee came back from a trip to Jamaica with a bag full of dubplates. The following year he pressed 1000 10" plates from one of these by the artist Whitebird aka SingingBird entitled "ShoBeDoBe" while the rest have all remained unreleased until now. There are a further 2 cuts from Whitebird plus 2 from the uprising vocalist Eldermire. All the Uncle Fee cutss were voiced and mixed at President Brown's Studio in Ocho Rios, JA and are reportedly just a taster of more to come from the UF label archives.
The Springline side of things come from Telford 'Tilly Roots' Nelson, formerly of Culture and who as a solo artist released the album 'On The Rock' in the early 90s along side some highly sought after 7" JA singles on the Sonny Fudgie Label. Telford voiced some dubplates for Springline Jamaica during 2009 which were mixed at Music Shop JA on a riddim provided by renowned roots riddim maker Flow Production in Switzerland.
Last but by no means least is Meeko Diamond's cut 'People Get Ready' that was given to Springline Jamaica as a gift from the band The Reggae Bubblers who reside in the Virgin Islands. This Bubblers cut, 'Come On Natty Dread', first appeared as a download single on Springline Jamaica 3 years ago and finds it's official re-release on this album.
Available now on CD and download at payloadz.com and rootslabintl.com.