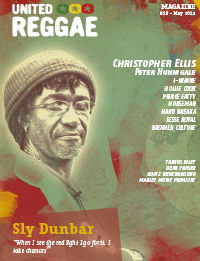 You can now enjoy the free pdf version packed with most of United Reggae content from May.
Download the digital magazine and the sampler for free now!
This issue includes interviews from Sly Dunbar, Christopher Ellis, Peter Hunnigale, I-Wayne, Hollie Cook, Hard Breaka, Jesse Royal, Brother Culture and also photos, reports, news and reviews.
The magazine can be read online or downloaded for free. And you can now also get a paper copy. Details here.