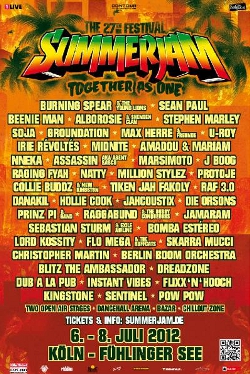 The 27th 'Together As One' themed SUMMERJAM reggae festival at Fuhlinger Lake in Cologne, Germany takes place between Friday July 6th and Sunday July 8th next. Fusing Germanic efficiency with Caribbean ease, the line-up contains the cream of the crop of reggae's many manifestations.
Rightly topping the bill and championing the 'roots' selection comes Burning Spear and his Young Lions. After his recent exhilarating (and emotional) Californian appearance, this eagerly anticipated event is Spear's seventh SUMMERJAM and third show of 2012 - and his first in Europe this year. Bringing up the dancehall dimension hot on the heels of his new album launch comes chart topper Sean Paul and the 'tomahawk technique'. And if that's not enough Beenie Man will do Dancehall too. The festival's proceedings will be brought to a close (on the Sunday night) by the popular, warm and engaging Stephen Marley - fresh from his 2012 Grammy award for best album. And for those looking for variety and an all-round high excellence reggae ensemble look no further than Alborosie and his Shengen clan.
Given the festival's 'Together As One' motif it is also apt that the all-important African angle is covered courtesy of the tip-top Tiken Jah Fakoly and Mali chartbusters Amadou and Mariam. Whilst the Marley-inspired SOJA bring their popular sounds from America alongside Groundation, Midnite and U-Roy – representing the roots of reggae. This will contrast with Protoje's 'new kid on the block' contribution live and direct from Jamaica. And to ensure that there is no musical discrimination Nneka will cater for those drawn to the hip hop soul sound.
Both Danakil and Irie Revoltes will bring a welcome French sound to the setting, complemented by Germany's Max Herre and the German-Indonesian influence of Sebastian Sturm and Berlin's Boom Orchestra.
With 2 main stages and a dancehall arena (catering for nearly 50 performances), together with a host of ancillary activities running round the clock, this event's only downside is what you'll miss should you decide to take a nap in the Chill Out Zone! So whatever your style, it sure seems like SUMMERJAM is a 'must do' for the real reggae rockers.