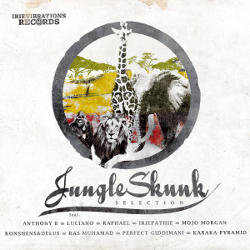 Irievibrations Records out of Vienna recently put out the 'Freedom Fighter' album from the powerful chanter Anthony B. And now it's time for yet another release, but this one is a one riddim compilation with nine cuts – of which six are previously unreleased – from reliable veterans and upcoming superstars.
Luciano's Hard Road, Konshens & Delus' Call the Police and Anthony B's Defend My Own are included on their albums for Irievibrations, while the tracks from Raphael, Mojo Morgan, Kabaka Pyramid, Perfect, Iriepathie and Ras Muhamad are new recordings on the Jungle Skunk riddim.
The one riddim album is currently available currently available as digital download.