Bunny "Striker" Lee has been a pivotal figure in the development of reggae music, and has been omnipresent on the Jamaican music scene for over four decades producing and working with a veritable who's who in reggae music, including Slim Smith, U Roy, Cornell Campbell, Alton Ellis and Augustus Pablo.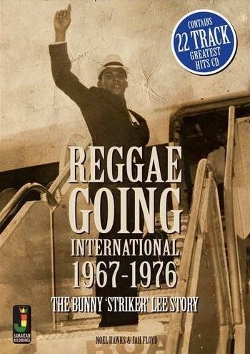 Now his story will be told, in his own words, transcribed and annotated by Noel Hawks and Jah Floyd from an illuminating series of interviews, conversations and question and answer sessions that took place over the course of five years.
'Reggae Going International' is Bunny Lee's recollections ranging over 200 pages with more than 100 rare and previously unpublished photographs from his personal archive. Included are also a 22 track CD showcasing some of his greatest hits, such as Slim Smith & The Uniques My Conversation, Lester Sterling & Stranger Cole's Bangarang and Johnny Clarke's None Shall Escape the Judgement.
Bunny Lee began as an independent record promoter in the early 60's and started producing records in 1967 and his run of hits earned him the title of Jamaican Producer of the Year for four consecutive years in a row – 1969 to 1972.
He was one of the first Jamaican producers to break into the UK National Charts with Max Romeo's risqué Wet Dream in 1969. He was also the winner of the first Jamaican Gold Record for Eric Donaldson's Cherry Oh Baby in 1971, holds the record for the longest consecutive period at the number one position in the Jamaican Charts with Stick by Me from John Holt in 1971 and was instrumental in the development and creation of dub.
In October 2008 at Kingston's National Honours and Awards Ceremony he was awarded the Order of Distinction in the rank of Officer for "more than forty years of dedicated service to the music industry".
His story will be available on July 16th in all good book shops and through Jamaican Recordings.