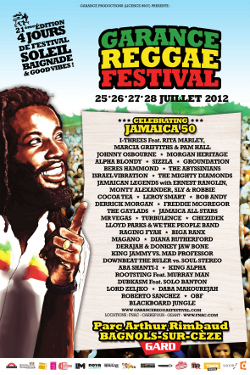 The 21st Garance Reggae Festival at the Arthur Rimbaud Park in Bagnols-sur-Cèze, France, which runs from Wednesday the 25th to Saturday 28th July, has now announced its final confirmed line-up along with who's appearing where and when.
The festival offers up a great selection of acts that will celebrate the 50th anniversary of Jamaican independence and pay a fitting tribute to this remarkable Island whose musical influence has reached the four corners of the globe.
On the main stage Wednesday will be the I-Threes featuring Rita Marley, Marcia Griffiths and Pam Hall, Jamaican Legends with Ernest Ranglin, Monty Alexander, Sly & Robbie and also Bob Andy, Derrick Morgan, The Gaylads, Lloyd Parks and We The People Band plus Jamaica All Stars, a band formed by French director Pierre-Marc Simonin after his "Portraits of Jamaican Music" documentary in 1998. A group with a fluid line-up that has included debut young musicians and veterans like Johnny Dizzy Moore, Justin Hinds, Scully Sims, Sparrow Martin and Bunny Wilson who'll be bringing to the stage a journey to the heart of the origins of reggae.
In Dub Station Corner, joining Blackboard Jungle who'll be appearing each night, are OBF, King Alpha and Dubkasm with Solo Banton.
On Thursday it's the turn of Johnny Osbourne, Groundation, Israel Vibration, Chezidek, Leroy Smart, Biga Ranx, Mr Vegas plus new to the bill Senegalese, jazzy voiced, vocalist Daba Makourejah who has previously worked with the Rockers Disciples and is now preparing her debut album. While Dub Station Corner will host King Jammy Vs. Mad Professor.
For Friday you've got Alpha Blondy, Beres Hammond, The Abyssinians, Freddie McGregoor, Diana Rutherford and The Mighty Diamonds.
In Dub Station Corner it's Downbeat The Ruler Vs. Soul Stereo.
Saturday closes with Morgan Heritage, Sizzla, Cocoa Tea, Raging Fyah, Turbulence, Derajah and Donkey Jaw Bone and Magano, a female vocalist who has backed the likes of Bunny Wailer, Michael Rose and Warrior King but is now going solo. With Aba Shanti-I, Rootsting and Murray Man supporting Blackboard Jungle.
More details about the festival can be found at www.garancereggaefestival.com