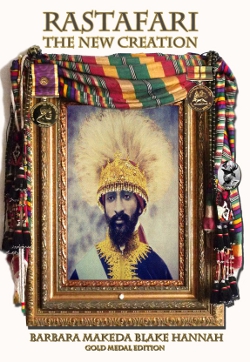 Over the years reggae music and Rastafarianism have become so entwined that many see them as one in the same, but in reality how many people across the world who listen to reggae music really follow or fully understand the beliefs of Rastafari as well?
This book written by the respected Jamaican author Barbara Makeda Blake Hannah is a good way for people who want to learn more about what actually lies behind this religious movement / lifestyle from the view point of someone who is a member of the faith. Originally published in 1980 this 7th edition contains revised text with chapters on Marcus Garvey, Bob Marley, Ethiopia and the Bible plus explanations on Rastafari views on the divinity of Emperor Haile Selassie I, the use of the Ganja Sacrament and the call for Reparations and Repatriation. There are also for the first time colour photos depicting Ethiopian Kwerata Re'esu (Christ with the Crown of Thorns), Emperor Haile Selassie, the Black Madonna and Bob Marley.
'Rastafari - The New Creation' is available exclusively on order from Amazon.com in both paperback and Kindle editions with 10% of royalties going to the establishment of a Rastafari Elders Medical Fund.