Last year Trojan Records released a fabulous 5CD box set telling 'The Story of Trojan Records'. Now this year and as part of their celebrations of the 50years since Jamaica gained independence from British rule they are releasing another 5 disc set, 'Trojan Presents Freedom Sounds'.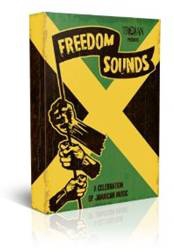 Over these past 50years Jamaica has grown into proud nation with a strong identity of it's own and no more so than through its music, which has gone on to influence many of today's styles across the globe. These discs are therefore compiled to highlight those responsible like performers Bob Marley & The Wailers, Jimmy Cliff, Dennis Brown, Desmond Dekker, Toots & The Maytals, Gregory Isaacs and Augustus Pablo. Producers Lee 'Scratch' Perry, Duke Reid, Leslie Kong, King Tubby and King Jammy plus recordings from the famous studios of Black Ark, Treasure Isle, Studio One, Channel One, Federal, Harry J, Randy's and Dynamic Sounds, with them all covering the varying styles of Jamaican music from the joyous up-tempo rhythms of Ska through to the sounds of contemporary Dancehall taking in a diverse range of topics from strident proclamations of freedom, hope, pride to songs of love and every day life on the island. Many of the 100 plus songs are new to CD and tracks issued outside Jamaica for the first time include 'Fa Fa Fa Fa' (Toots & The Maytals), 'Brothers' (The Heptones), 'It's In The Plan' (The Planners), 'People Get Ready' (The Carib Beats), 'A Taste Of Reggae' (Ska Campbell), plus a previously unissued version of the Pioneer's hit single, 'Let Your Yeah Be Yeah'.
Again as with 'The Story of Trojan Records' a 50-page book, written by Record Collector Editor Ian McCann, is also included featuring detailed commentary on the history of Jamaica and its musical heritage, with the aid of many rare photos and memorabilia plus the inclusion of 4 specially designed A5 postcards, along with a celebratory Jamaica 50 sticker. Also if you buy the set and register to The Trojan Appreciation Society (TAS) online, or are already a member, you will be able to download a bonus disc, comprising 10 Ska, Rock Steady and Reggae tracks, again with almost all making their official digital debut.
'Freedom Sounds' will be priced at £29.99 and is set to be released on the August 6th anniversary of Jamaican independence. If you want to be one of the first to get yours you can pre-order now direct from the Trojan Records Shop. Or to see a full track list of all 5 discs and bonus download first visit Trojan Records News.