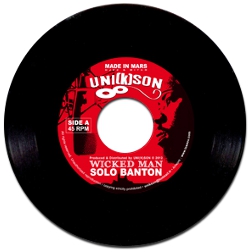 Marseille based producer and beat maker Unikson has released two 7 inch singles featuring UK artists' Gappy Ranks and Solo Banton.
The duo can be found riding his latest earthy, organic riddim Prisoner of War. Gappy Ranks with the aid of Scarra Mucci on the riddim title track while Solo Banton gives us Wicked Man featuring rising Reading R&B vocalist Sabrina Bell, backed by a version on the flip. This cut is also taken from his forthcoming LP 'Higher Levels' produced by Reality Shock.
Both are available now on 7" vinyl and on all legal download platforms.