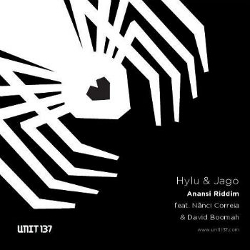 Producer and engineer Hylo has teamed up with songwriter and MC Jago. Together they operate from the Unit 137 studio in London focusing on UK underground bass and reggae music.
The duo's initial release is the Anansi riddim EP. It features some of London's up and coming vocal talent – Nãnci Correia, who has recently found success as part of the world renowned Congo Natty Family, and jungle legend David Boomah.
Alongside these vocalists jungle, dub and dubstep remixes from Kähn, Run Tingz Cru and Sleepy Time Ghost are added.
The Anansi riddim is available now.