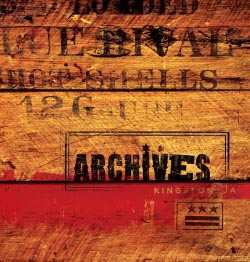 U.S. reggae band The Archives have just put out their self-titled rootsy debut album produced and mixed by Eric Hilton and Chris Garrett from Thievery Corporation.
The Archives came together when Eric Hilton began a quest to explore the roots of reggae music. He asked keyboard player Darryl Burke to put together a cover band that would introduce club goers to the rock steady hits and obscurities of the pre-reggae era.
The band started to perform regularly at a club called Patty Boom Boom, where they played nightlong sets, often around 60 tunes or more.
"Everyone in the band has recorded and toured internationally with acts like Eek-A-Mouse, Culture, Gregory Isaacs and The Abyssinians," explains Darryl Burke in a press release, and continues:
"We weave together the best of foundation roots, rock steady, early dub and dancehall influences with arrangements that use funky throwbacks such as jazz flute, melodica and organ to create a classic, yet fresh and conscious sound."
The album's 13 tracks include vocals from lead singers Ras Puma and Lenny Kurlou as well as guests Sleepy Wonder, Desi Hyson and Ichelle Cole. Featured are also covers of Timmy Thomas' Why Can't We Live Together and One More Time by The Clash and Mikey Dread.
"Dali once said he learned to paint like the masters before embarking on his visionary quest," explains Mateo Monk, who handles guitar, flute and melodica, and continues:
"We strive to play like the masters in our field, but we're part of our generation. Modern sensibilities have developed since the golden era of reggae: better gear, more awareness of studio techniques, new approaches to improvisation, new paradigms for the concert experience and greater social consciousness. We are not a retro band. We're a 21st century band with really deep roots and we want to contribute to reggae's evolution. Same tree, new leaves."