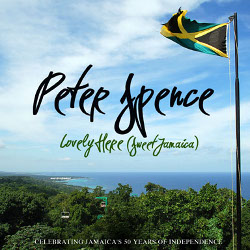 UK Lovers Rock singer Peter Spence has just released a new single "Lovely Here – Sweet Jamaica" to coincide with the Jamaica 50 celebrations.
The vibe on the song is as warm and sunny as the Caribbean itself with lyrics that describe its beauty, fabulous food and soulful people. Also hidden in the there is a tale about making your dreams become a reality which coincides nicely with start of the biggest sporting event in the world as the Olympics begin in London where many athletes will be looking to make their dreams become reality by winning gold!
"Lovely Here - Sweet Jamaica" is released by Smart Move Records and is available as a digital download and on limited edition 7" vinyl.