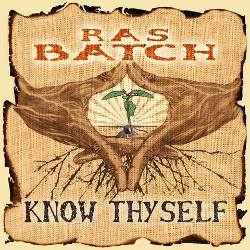 Virgin Islands' multi-talented roots reggae artist Ras Batch is back with his seventh album – the introspectively titled 'Know Thyself', his first set on the acclaimed I Grade Records.
And United Reggae and Soul Of The Lion are proud to offer you an exclusive free download of Together, the infectious first single off the new album.
On 'Know Thyself' I Grade Records' founder and producer Laurent "Tippy I" Alfred has assembled an all-star cast from the Virgin Islands and Jamaica. Among the singers and players of instruments performing are Leroy "Horsemouth" Wallace on drums, Dean Fraser on saxophone, Andrew "Bassie" Campbell on bass, Earl "Chinna" Smith on guitar and Niyorah on vocals.
Ras Batch is a strictly conscious artist with multiple talents, including singing, producing, songwriting and playing keys and bass. He grew up on the island St. Croix, in the US Virgin Islands, and was born into a musical community, taking up the drums as a teenager and taking part in music at his church.
His first foray into the music industry was as drummer for Jamaican roots reggae singer Danny Tucker. He later moved into the role of singer himself in the band Motion. He founded his own label Sound V.I.Zion in 1999, on which he has to date dropped six albums.
'Know Thyself' includes 17 tracks and is mainly produced by Tippy I with arrangements courtesy of Zion I Kings. It hits the streets on August 14 on CD and digital download.