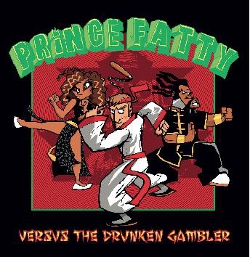 Renowned sound engineer and record producer Mike "Prince Fatty" Pelanconi is set to drop his third full-length album on September 17. It's a concept album titled 'Prince Fatty Versus the Drunken Gambler', hosts ten tracks of both originals and covers and is described in a press release as a "mix of hip hop fantasy and reggae reality".
As usual with Prince Fatty releases a host of guest artists appear, and this time he has invited the usual suspects - the enchanting singer Hollie Cook and vintage-styled deejay Horsman. But other artists show up as well. You have Studio One legends Winston Francis and Dennis Alcapone as well as George Dekker from The Pioneers.
The first offering from the album is a double A side single. It has a reggae take on Ol' Dirty Bastard's Got Your Money with Hollie Cook assuming the role of Kelis and Horseman taking on the man himself on one side and a version of Max Romeo's infamous Wet Dream on the other.
"I was sad when Ol' Dirty passed away and for me the great hip-hop era ended with him, this was a way to honor him. Of course we love Kung Fu, vintage public service announcements and dub. With a mix of fantasy and reality I present Prince Fatty versus the Drunken Gambler", says Prince Fatty in a press release.