During the latter half of the seventies when disco ruled the dance floors labels such as SalSoul, Philly, Casablanca and T.K Disco began bringing out extended versions of their latest releases to keep the dance floor faithful in the groove longer.
Reggae never one to be out done by changing fades also hopped on this bandwagon with labels and producers releasing their own disco / extended-mixed versions of tracks, with vocal cuts spliced with DJ or Dub cuts to create long-playing versions of their own latest singles.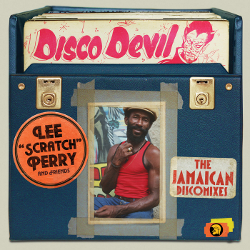 Probably one of the greatest exponents of the disco-mix format was Lee 'Scratch' Perry who from the controls of the legendary Black Ark created some of the most wonderful 12" singles ever to see issue.
The best of these works from the prolific producer, recorded between 1976 and1980, have now been collected together here on "Lee 'Scratch' Perry And Friends - Disco Devil - The Jamaican Discomixes" released on Trojan Records via Universal / Sanctuary Music. Featuring artists including Max Romeo, Junior Delgado, Junior Murvin, Leroy Sibbles, The Congos and himself, amongst others, this collection is aimed not just at Perry enthusiasts, but also those wishing to discover the very best in the Roots Reggae Disco-Mix sounds.
Full track listing:
DISC #1:
1.Norman – Max Romeo & The Upsetters
2.Bad Weed – Junior Murvin
3.I Forgot To Be Your Lover (aka To Be A Lover) – George Faith
4.Know Love – Twin Roots
5.Rainy Night In Portland – Watty Burnett
6.Disco Devil – Lee Perry & The Full Experience
7.City Too Hot – Lee Perry
8.Words – Sangie Davis & Lee Perry
9.Roots Train - Junior Murvin & Dillinger
DISC #2:
1.Open The Gate – Watty Burnett
2.Neckodememus – The Congos
3.Rasta Train – Raphael Green & Doctor Alimantado
4.Ketch Vampire – Devon Irons & Doctor Alimantado
5.History (Of Civilisation) – Carlton Jackson
6.Sons Of Slaves – Junior Delgado
7.Party Time – The Heptones
8.Free Up The Prisoners – Lee 'Scratch' Perry
9.Garden Of Life – Leroy Sibbles