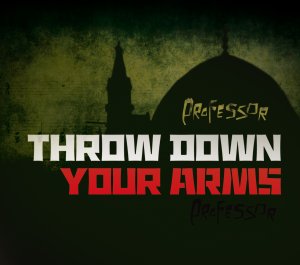 It has only been five months since Harrison Stafford's band Groundation dropped their seventh studio album 'Building an Ark', and now he's already set to drop his second solo album under his moniker Professor.
'Madness' – released in 2011 – was his first solo album. It was a personal excursion and the result of meetings and discussions he had during his travelling in Israel and Palestine.
With 'Throw Down Your Arms' Harrison Stafford wants to prove that reggae can and should talk to everybody and that it's an universal language, a language that crosses borders and conflicts.
"The idea to record this album came from decisive discussions I had in Ramallah with an Arabic poet. He told me that he knew reggae music and mentioned Bob Marley particularly," says Harrison Stafford in a press release, and continues:
"I was surprised to hear that he didn't like reggae music because of the negative message it conveyed. I was stunned. I never heard anybody associate Bob Marley's music with other than positive vibration and positive messages. The asked me 'why reggae music is so Zionist in his message?' Wahou, everything became clear to me."
'Throw Down Your Arms' drops in October and offers revisited live versions of his first album as well as new tracks, such as the instrumental Rockfort Rock.