In the late 70's a new music movement started to form around the nowadays iconic 2 Tone label in the UK. Bands such as The Specials, Madness and The Beat climbed the charts with their unique style of ska, a styled that owed quite a lot the sounds of Toots Hibbert, Prince Buster and many other Jamaican heroes from the 60's.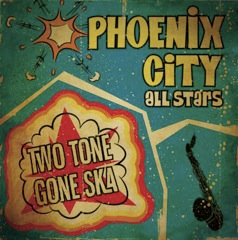 The newly formed Phoenix City All-stars have now decided to celebrate the 2 Tone label with the sound of good old fashioned Jamaican ska. They've taken some of the 2 Tone era's most enduring moments – including The Specials' Ghost Town and Madness' One Step Beyond – and replanted them in Jamaica in the 60's.
'Phoenix City All-stars Present Two Tone Gone Ska' collects eight tracks produced by Lenny Bignell from The Sidewalk Doctors and Sean Flowerdew from Pama International. The blazing tunes are performed by an all-star ensemble, including guest vocalists Dave Barker, from Dave & Ansell Collins, and AJ Franklin from The Federals and The Chosen Few.
'Phoenix City All-stars Present Two Tone Gone Ska' was released on September 3rd as CD, limited edition LP and digital download.