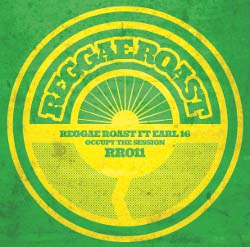 Jamaican singer Earl Sixteen – nowadays resident in the UK – is one of the most revered singers of his generation and has been an integral part of the reggae industry since the 70's. His recordings have been produced by legendaries such as Linval Thompson, Lee Perry, Augustus Pablo, Clement Dodd and Sugar Minott.
Over the last years he has been recording for a number of producers, and last year he put out his latest album 'The Fittest' on Dutch label JahSolidRock.
UK label Reggae Roast has now teamed up with him for the easy skanking Occupy the Session. It's a collaborative effort between label boss Jim Moodie and UK production legend Nick Manasseh.
The original vocal track is complemented by four versions – one instrumental, one remix by dubstep-influenced producer Adam Prescott, one club banger remix by Noises and one dub version by Nick Manasseh himself.
Occupy the Session was released on Monday August 21 on 12" and digital download.